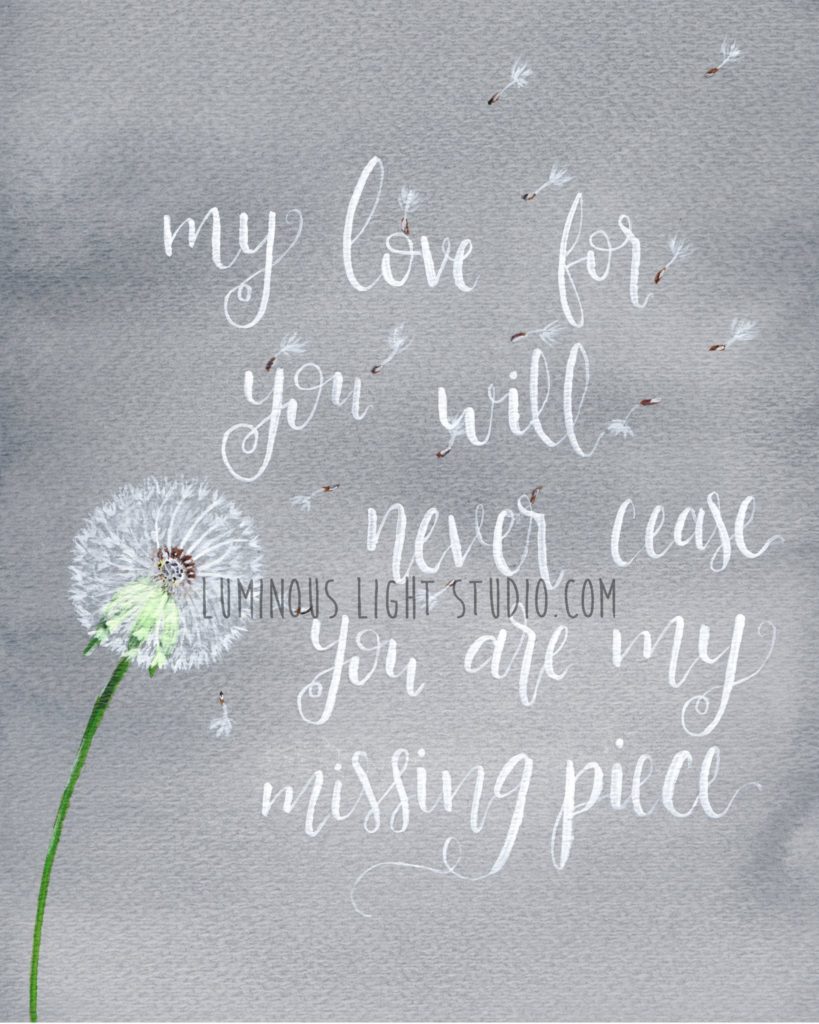 October is upon us again.  In many ways, it is my favorite time of year. Leaves are changing colors here in the Midwest and the temperatures are cool enough for sweaters but not so cold that I am frozen.  Cinnamon, apple, and pumpkin spice treats warm my belly and make me happy.  Bruce and I got married on October 9, 1993…less than a year after our first date on October 31, 1992!  (That fact freaked out some of our nieces and nephews recently, until I pointed out that we were friends for a couple of years before dating.)  All of these memories and sensations are wonderful.
Then there is this:  Gabriel was stillborn on October 6, 1994.
This painful reality used to destroy my "favorite" month.  His birthday would approach, and I would cry and ask all over again, "Why God?  We did everything right.  We were open to life; welcoming a child into our new marriage.  Why?"
It has been 22 years.  I ask "Why?" less often.  Not because I understand everything, but rather because I have come to accept it as a mysterious part of God's plan for my life.  For those without faith, this is bizarre, and might even sound like a foolish cop-out.  It's true that Christians, Catholic and Protestant alike, often throw our hands up in the air after a tragedy and say "It's all a part of God's plan."  How does that possibly give comfort to the couple who just experienced their second loss?  How does that give hope to the woman who has had 4 miscarriages and longs to hold a child in her arms? Doesn't He want us to be happy?
I think the struggle here is that our understanding of happiness is so limited.  We are stuck here in time and space.  We are caught up in the senses, and certainly the sweet smell of a baby or the sound of his giggle makes us happy.
But what comforts me is knowing that Gabriel is already at peace. Yes, I missed out on watching his first step or posting First Day of School pictures on Facebook.  I missed out on First Communion preparation and birthday cakes.  But I have a son who is perfectly whole, and holy, in heaven.  That's my main job as Mom: be sure my children get to heaven.  I don't just believe, I know he is with Jesus…and nothing is better than that.
Does this mean I want families who have suffered a loss through miscarriage, stillbirth, or infant death to just smile and get over it?   Of course not. This is not an either-or situation.  As grieving parents, we are not either stuck in sadness nor gleefully beyond it.  The way we experience grief isn't cut and dry, moving from one step to the next.  Our emotions are more like a bowl of pasta…noodles weaving in and out. Sometimes you see the end, then it starts all over again.  That. Is. Okay.  Certain memories will pop up, dates return to the calendar, and family and friends will continue having their own babies.  Some days this is really hard, some days not.  Yes, it has been a long time for me, but it is not the passage of time that has healed my wounds.  It is God's Love.  His Love demonstrated through my wonderful husband Bruce.  His Love shown through my amazing family.  His Love poured out through the people and teachings of the Church.  Love has healed me, and has done so in such a way that Gabriel is not forgotten.
God's ways are not our ways…and I realize that offers little consolation to those who recently lost a loved one, any loved one.  It is certainly mysterious as to why some people celebrate their 100th birthday and others never take a breath.  Gabriel impacted my life, and I may not have journeyed into foster parenting or prolife work if it were not for my experience as Gabriel's Mom.  Which parts of this story were ordained by God and which parts were simply permitted by Him, I may never know.  But I do know He was with me… and Bruce and Gabriel the whole way.
Throughout this month, which is Pregnancy & Infant Loss Awareness Month, I will pray for my sisters…those women who share this common bond.   I will pray that they can also find the peace and consolation I have found.  I also pray that our children are laughing and playing together before the Lord.  That image, that thought, truly makes me happy.