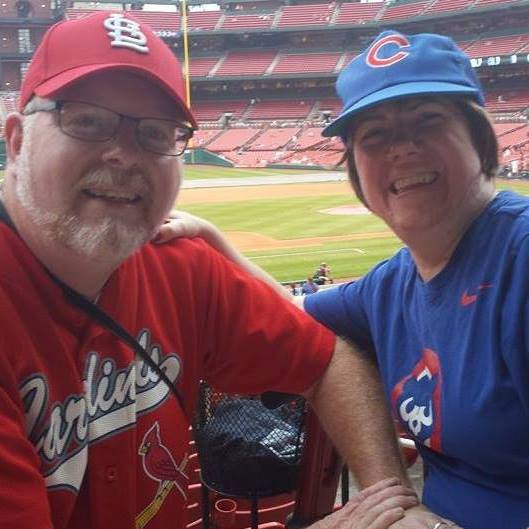 So, tonight I have a silly post.  Gotta do that every now and then, right?
This is one of my favorite pictures of my husband and me together.  It was taken in September of 2015, when we attended a game between the St. Louis Cardinals and Chicago Cubs at Busch Stadium.  I had purchased tickets the previous June, just hoping the Cubs would not already be eliminated by the time we went to the game.  As many baseball fans know, both teams made it to the playoffs; Cardinals as the division leaders, Cubs with the wild card.  The Cubs won the game Bruce and I attended, and managed to beat them in the first round of the playoffs.  Sadly, the Mets ended my 2015 World Series dreams.
But it's 2016, and I'm giddy as can be!  In an unbelievable year, the Chicago Cubs have topped their division, and the entire league, all season!  Today was the last day of the regular season, and they beat Cincinnati in the 9th inning.  Great momentum for the playoffs, which begin at the end of this week.  Bruce's poor Cardinals hung in there until today, but missed the wild card play-in when the Giants beat the Dodgers.  I'd say I feel bad for Bruce (he is the love of my life) but I don't!  Ha!
You don't have to be a baseball fan to know the Chicago Cubs are generally "lovable losers."  Post-season play is rare, and when it happens, it usually ends in heartbreak.  In fact last year, Bruce purchased a Cubs wall clock for my home office/craft room, set at at 7:08.  He said, "That's 1908 in military time.  The last time the Cubs won the World Series.  I don't think you need batteries; just keep it like it is."  He loves to tease me, because his Cardinals have a much better history.  He reminds me all the time!  Since we got married in 1993, the Cubs have been in post-season play 5 times (always losing) and the Cards have been in post season play 11 times, landing in the World Series 4 times, winning twice.  I often joked that our wedding vows included "For better or for worse, in sickness and in health, in October or not."
Well, this year I am the one who gets to enjoy October!  At least, I hope I do.  As a faithful Catholic, I don't believe in curses, goat or otherwise.  But I know the history and I am a tad bit nervous.  Nonetheless, I have enjoyed gloating all season!  I have posted, shared video highlights, and plenty of hashtags on Facebook.  The rivalry has been fun, not just with Bruce but with friends and family everywhere.
I will say this. Bruce and I have been through a lot over the years.  We buried our son the day before our first anniversary.  Working in manufacturing, he has been laid off numerous times, so our budget would get extra tight.  We experienced the ups and downs, joys and sorrows of foster parenting.  Both of us have had health issues and hospitalizations.  In other words, life has often been difficult in ways that have torn other couples apart.  I give credit to God and His sacramental grace for holding us together.  And perhaps His sense of humor.  Considering everything Bruce and I have gone through, perhaps God knew we needed something silly like a sports rivalry to bring us joy.  It certainly has worked!
#GoCubsGo!