Generally, when I participate in the #WorthRevisit Link-Up, I am posting something I wrote before; thus the revisit concept.  Then I share it with the Reconciled to You and Theology is a Verb blogs.  It's been a great way for me to "meet" other writers and speakers who enjoy sharing their faith.  But today, I have a new post.  And I have been struggling for days to write this.  It's a bit jumbled, but it is from my heart.  I am not revisiting something I wrote before, but instead I am revisiting someone dear to me.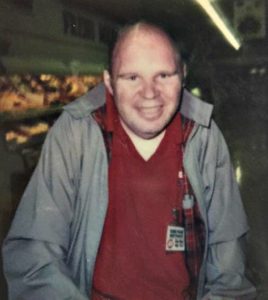 You see, less than two weeks ago one of my brothers-in-law passed away.  Dennis Aloysius Padan.  He was the second child of nine, including an infant brother who died just a few days after birth.  Denny had numerous health issues which required a lot of help, so he always lived at home.  My father-in-law died before I joined the family, meaning all the years I knew Denny, he was being taken care of by my remarkable mother-in-law, Dorothy.  But this is a tight knit family, so siblings also helped, even after growing up and moving out. I have been a Padan for nearly 23 years, and my mind is filled with sweet images of the nieces and nephews playing with Uncle Denny.  He often partnered up with Dorothy in Euchre games, and became quite feisty if he had a bad hand.  He loved to watch football, especially the Indianapolis Colts, and would scream loudly at the television more often than not.  I also think fondly of Denny's spring/summer greetings to me any time we arrived at a gathering. It always had to do with the Chicago Cubs.  Usually, it went something like, "So Kimmy, what's wrong with the Cubs this year?"  But this year, it was different.  (It IS our year, you know!)  In fact, the day before Denny passed, Bruce and I were visiting him in the hospital.  He had surgery the previous day, and seemed to come out of it quite well.  He was upbeat and talkative; not just about baseball, but also Indy & NASCAR racing.  He asked, "So Kimmy did the Cubs win last night?"  The Cubs had actually lost that game, but I reassured Denny that I was not worried at all!  Bruce and I left after our visit, feeling so hopeful for Denny.  Sadly, there were complications and he went to his eternal reward early the next morning.
When we heard about Denny's death, it stunned me.  Less than 24 hours earlier, we were talking and laughing.  How could this be?  But I realize none of us knows the length of our days.  Any one can leave this earth without warning.  Perfectly healthy people may die suddenly before critically ill people depart.  I knew immediately that the time Bruce and I spent with Denny that sunny Sunday was a gift to us.  Other family also visited that day, and everyone said how happy Denny was.  I cannot know the mind of God, but perhaps He knew Denny had suffered enough, and needed a Good Day before he left.  I like to think that is the case.
All the Padan siblings made it to Rockville for the funeral.  Many in-laws, cousins, nieces, nephews, classmates, and church friends were present to share the burden of grief together. The stories shared were beautiful.  I knew when Denny was healthier (including in my early years of marriage to Bruce) that Denny rode his bike to work at the local IGA.  He faithfully stocked shelves, swept floors, and greeted people for years. Everyone loved him.  But he also spent a lot of summer days at the community pool, throwing kids in with a big splash!  Bruce said kids would go up to Denny directly, asking to be thrown in!  Denny had so much joy, and shared it abundantly.
I sang for Denny's funeral Mass, barely getting through.  At one point, I caught a glimpse of Dorothy and had to look away before I broke down.  My mother-in-law is one of the happiest people I know, and this was one of the saddest days of her life.  She lost a baby boy many years ago (before Bruce was born) and now she has lost a grown son.  I know the pain of burying your own child, but even with the similarities, this is different.  My memories of Gabriel are precious, but so few.  Losing a child at birth makes you grieve what might have been.  But losing a child after 56 years of caring for him?  The depth of sadness is unfathomable.
Our sadness is real because we still are living on earth in the flesh.  But the sadness will not last forever.  It will come and go, in waves.  Birthdays and holidays will be tough.  The Euchre table will never be the same.  And yet, there is Hope.  We are people of Faith.  We are believers in the Resurrection.  Denny was baptized and received the Bread of Life, and with that comes the Promise of Eternal Life!  Thanks be to God.
I can still hear Denny's voice, calling out "Hey Kimmy!"  It's funny, because very few people call me by that name.  As a kid, I hated it, and refused to even let people call me Kimmy.  But for some reason, it always seemed to fit with Denny, so he got away with it!
I miss him already.  Denny, May the angels lead you into paradise.
Love you buddy…Kimmy.