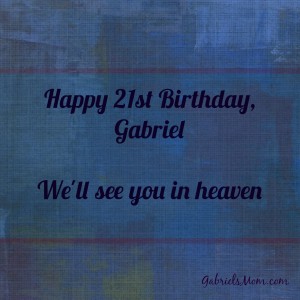 I have had a very quiet day of rest.  After a busy weekend of speaking and traveling, I just needed some down time.
With that down time comes lots of time to reflect and remember.  Today would be Gabriel's 21st birthday.
I talked about Gabriel a lot this weekend, as I shared my pro-life convictions.  I spoke about the dignity of every person, born and unborn, disabled and healthy, rich and poor.  The sanctity of human life comes not from an individual's productivity, but from the fact that each person is created by God, in His likeness and image.  Period.
I was advised to abort, repeatedly.   My "choice" to protect my son was met with scoffing and ridicule from medical professionals. Thank God my husband agreed with me completely.  Thank God we have family and friends who prayed for us, for Gabriel, and who continue to recognize Gabriel as the family member he will always be.
As a woman of faith, I believe in life after death.  I believe human beings are made to be in union with God for eternity.  My son never committed any sin (he was perfect!) and his baptized soul is in communion with God and the saints already.  Some day, I will hold him again.  That will be quite a reunion!
In the meantime, I imagine he looks down at his mom sometimes, praying for me.  That's what good sons do…they pray for their moms and dads.  I also imagine my son as part of a heavenly welcoming committee.  There is no theological basis for this; but I just picture him greeting the souls of children who never took a breath, but whose lives matter just the same as us still struggling on earth.  These images give me comfort.
So, as I commemorate the 21st birthday of my son Gabriel, I also pray for every mother and father who has lost a child, especially before birth.  Many people do not understand this loss, but I do.  Hang in there.  You will never forget your child…but you will find peace and comfort.