Today is the 22nd anniversary of the day I was joined in the Sacrament of Marriage to my husband Bruce!   We have been through many adventures.  We have traveled to many amazing places together.  We have laughed and cried countless times.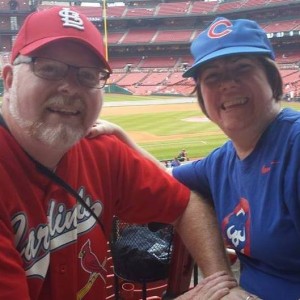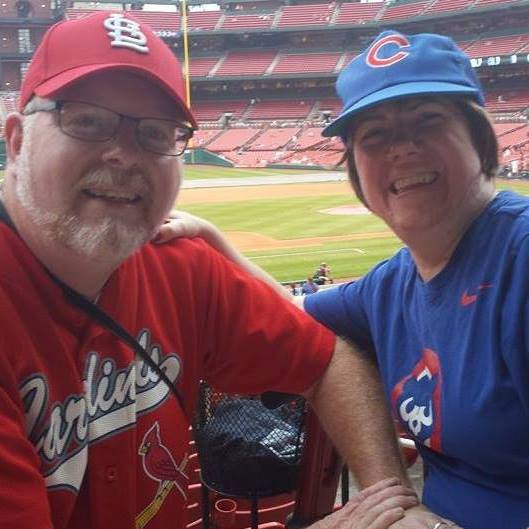 We also have teased each other about various things, the most common of which is baseball.  You see, Bruce is a die-hard St. Louis Cardinals fan.  I am a die-hard Chicago Cubs fan.  No wonder we need sacramental grace!  Ha!
For years, Bruce has been the one gloating.  His team is frequently in the play-offs, and has multiple World Series Championships in recent years.  I never hear the end of it!  For years,  I would joke that our vows went something like "For better or for worse, in sickness and in health, in October or not."
It has been 107 years since the Cubs have won the World Series.  It has only been 4 since the Cardinals have won.  It's our turn, right?
I know we are not the only "house divided" in the country.  Our local paper even did an article featuring local families with split loyalties.  Let's face it…it's fun!  It adds a much needed comical element to the trials and challenges of real married life.  We can't always be serious.  We need a reprieve from hard work.  We need to experience joy and laughter.  God has known since the beginning that I would be wearing Cubbie blue, and Bruce would be decked out in Cardinal red.  God has a great sense of humor!
Of course, regardless of the results of each baseball season, Bruce and I love each other immensely.  Two years ago, I bought St. Louis gear for his 50th birthday, and he returned the favor (with Cubs gear!) this year for me.  We jokingly try to convert each other, knowing full well that neither of us will ever change jerseys.  It is a classic example of "Opposites Attract."  But since we are not opposite in the truly important and eternal issues of faith and family, we can handle differences on the baseball diamond.  We never lose sight of what truly matters.
Tonight, on our 22nd wedding anniversary, The Cubs and Cardinals will face off in the playoffs for the first time in history!  Bruce has to work, which is a bit disappointing.  But we will watch the other games together.  In fact, his shift has been changed for next week…perfect timing for him to watch the Cubs eliminate his team!  At least, I hope so.  I want to see what this gloating feels like!
#GoCubsGo!