Tomorrow is Thanksgiving Day here in the US.  I am blessed to be visiting my mom in South Carolina for the week.  Games of Yahtzee and comfort food have adorned the week, with plenty more to come!  Here are a few random thoughts on some not-so-random blessings.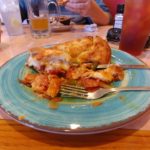 My dad was transferred with his company right after I graduated from high school, so my parents and younger sister relocated in the "midlands" of the state.  Nearly every time I come down to visit, I eat at a local restaurant, Camden House of Pizza.  My first visit, way back in 1983, was made memorable by my first taste of true southern sweet tea.  You see, I love iced tea, and it is my beverage of choice when I go out.  But when I ordered iced tea in a southern state, I had no idea I would be automatically served the sweet stuff…and I mean SWEET tea!  My sister got a good laugh out of it!  I don't recall if I was able to get unsweetened tea, or if I ordered something else, but the sugary taste of that first sip is something I'll never forget!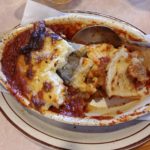 This week, mom and I split a "small" pepperoni stromboli and Bruce had some eggplant dish.  I'm not a fan of eggplant, but he enjoyed it immensely.  I also enjoyed my UN-sweet iced tea, along with with friendly small town service.  It's simple things like this that truly make me happy.  Delicious food, family, and local hospitality.  Blessings indeed!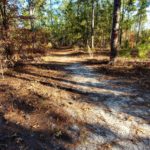 Camden SC has many Revolutionary War historic sites, most of which I had not seen before, despite visiting dozens of times.  Bruce is a history buff, and he has checked out some sites at times when I had stayed back at the house, perhaps crafting with mom.  This week, he and I went together to walk (well, I rode in my wheelchair) a trail that is in the area of the Battle of Camden, one that the British won solidly.  Bruce got a lot of exercise pushing me over the less-than-smooth path.  We read the historic markers, and marveled at the now very peaceful wooded area.  War is never pretty, but I count my blessings for living in a nation that has so many freedoms.
While on my vacation, I have enjoyed perusing my favorite stamping/paper crafting site:  Splitcoaststampers.  I have left some "gallery love" for my fellow stampers who just participated in "Virtual Stamp Night" last weekend.  I brought a stack of cards to write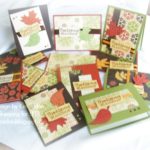 out and mail, since I am woefully far behind.  Yesterday, I mailed 11 cards; sympathy, get well, thank you's, and birthday.  I have some more to mail on Friday, and I might even make a few new cards.  I packed a fair amount of supplies, but already  I thought of things I wish I had brought.  What a blessing it is to have so many crafting toys, as well as an opportunity to share them with my mom!  She is really into quilting these days, and has sown me some beautiful projects she is working on.  She has piles of pretty fabric, I have stacks of pretty paper.  Now you know where I get my love for card making!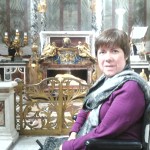 Finally, today is the Feast Day of Saint Cecilia, a martyr of the Early Church.  She is a Patron Saint of musicians, so I chose her as my Confirmation Saint so many years ago.  I confess, I knew little else about her until my adult years.  It is said that she had been condemned for her Christian faith, and was to be killed by beheading, but the executioner was unable to complete his task!  Cecilia bled out in what must have been an excruciating death, but all the while was singing praise to God!  She was evangelizing even in the midst of dying!  What a tremendous model for us, even today.  Such blessings to have the Saints who have gone before us…our family of faith!  (In this picture, I am at Saint Cecilia Church in Rome, back in 2013.)
There are more blessings than I can write about here…incredible in-laws, devoted friends…so much for which I am grateful.  Being thankful is important every day, not just on Thanksgiving, not just in November.  As David proclaimed in the psalms,
I will bless the Lord at all times; His praise shall be always in my mouth.

Psalm 34:2
Happy Thanksgiving!!