Today is Wednesday, and I am participating in the #WorthRevisit Link-up again.  This week, teens and young adults from around the globe are gathered in Poland for World Youth Day.  Today, Pope Francis arrives to preach, to bless, and to inspire!  I have a young friend, a recent college graduate, who is there participating in this incredible pilgrimage.  In honor of this week, I am sharing my own exciting encounter with Pope Francis.  This was originally posted on a different blog in 2013.  Be sure to check out the other #WorthRevisit posts at Reconciled to You. 
*************************************************************************************
Buono Sera!
October 23rd was a day like no other!! Frankly, this post sat in my drafts for weeks! I am just posting it in the right sequence, for those who are just now following our vacation. I could have started earlier, but was at a loss for words. Strange, I know. That is because I wanted to get just the right words to tell the story. But instead, I will just jump right in. And for my non-Catholic friends, please read to the end…I have some thoughts just for you. But here's the short version..
Yes, dear friends: I got a HUG from Pope Francis!!! And my beloved husband shook his hands!!
My Facebook friends have gotten a glimpse of some proof of this incredible event. We were able to post a link to the Vatican website's page of photos from the General Audience on October 23rd. We're near the end of over 1700 pics so it takes patience to find us. The pics are copyrighted of course, and I have tried to order some, but something about the website isn't working. Shucks. The good news is that I was able to get digital files from one photo company, and Bruce got some pictures as well. Not of The Hug, mind you. Bruce wanted to experience the moment, be present…as my sister advised, "Don't live your vacation through a lens."
Here's a bit of background, in case you are curious. We spent 18 months dreaming, planning, saving for this anniversary trip…and put a General Audience with the Pope on the must-do list. Early on, I thought that perhaps I should write Bishop Jenky (Peoria Diocese!) to see if he could get us tickets. Frankly, I thought it was a long shot…I had NO idea that tens of thousands of people attend. I never did contact our Bishop, but I did have our local pastor, Father Greg Nelson, write a letter to the Pontifical North American College mentioning our anniversary and active parish life. Found out those details were not needed, but hey, they didn't hurt! I sent his letter with an email…and had a response within 48 hours! SO EASY! I think every Catholic who travels to Rome should do this!!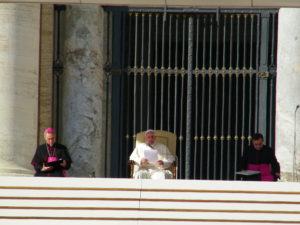 What was different for us is that I am in a wheelchair. Sometimes, that is a real drag. Unlike many of the great Saints, I do not always accept my physical struggles so graciously because, well, there are days when I am in pain or when I just want to move better on my own (I can walk with a cane for very short distances.) I do accept that this is how God created me, and I know I am made in His likeness and image. That doesn't mean God has arthritis or Dejerine-Sottas…it means I have dignity by the simple fact that He chose to create me. Simple as that.
But having a wheelchair at the Vatican proved to be a blessing. I would have been knocked down by the crowd…or simply would have fallen trying to walk to a seat. St Peter's Square is quite big! The set up allowed for wheelchairs to be lined up in front and in aisles where the "Pope-mobile" travels. Oh.My.Gosh! Please forgive me as I sound like a teenager, but we had AMAZING seats! We were in the center aisle! He went passed us TWICE.
Of course, we didn't know if we would have another chance, so the first time he went by, Bruce handed a Walk for Life t-shirt to one of the security guys! Yep! I joked about bringing one to the Pope. So we packed one in the suitcase (plus Bruce wore his) and as we were waiting for things to start that morning, I actually wrote a note to the Pope. Nothing to lose, right? I told him that Women's Care Clinic just got a bigger building…that we want to reach more families and save more babies. I asked for his prayers. I have no idea if he saw it personally, or if someone on his staff did. But there is a Women's Care Clinic Walk for Life t-shirt somewhere in the Vatican! As if that was not enough, the sun was shining, the sky was blue, the crowd was joyful and friendly…and we could see the Pope give his message. That was remarkable…he has such a gentle spirit about him. I can't wait to see what God will do through this man!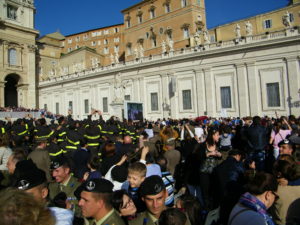 Bruce looked at news briefs after our busy day, and there were estimates ranging from 80,000 to 100,000 people in attendance! Wowza! One thing I found remarkable was that everyone was so well behaved…seriously. Not shoving or screaming (well, there was a bit of chaos as we tried to enter St. Peter's Square.) Even as the Pope spoke, everyone was quiet and respectful. I truly believe people wanted to hear what he had to say. There was a group of firefighters from Florence, and an Italian army troop that was getting ready to be deployed to Beirut…all seeking the Pope's blessings. We also saw many tour groups from all over the world. Truly a Catholic (i.e. universal) experience! Amazing!
Just before his message, a passage from the Gospel according to Luke was read…the story of the Visitation! Pope Francis used this as the inspiration for his message. I was so moved, literally to tears. The story of the Visitation is one of my favorite pro-life passages: 2 pregnant women with two unborn babies! The remarkable faith and love that Mary expressed through her willingness to say YES to God's plan, which included a BABY! How perfect is that? It just seemed remarkable that we were there that day.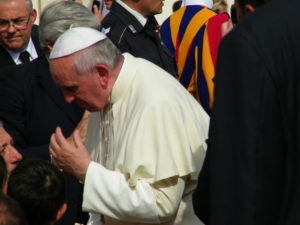 After the audience, we decided to wait around, in case the Pope-mobile came out again. But what we saw instead was that he was greeting everyone sitting in a wheelchair up front! We knew we needed to get up there! The front of the center aisle was blocked by lots of photographers, but eventually a space opened up. As we started moving forward, a man told us No. I could not take No for an answer! We were only about 15 feet away from the end of the wheelchair line… "Permesso, per favore!" I pointed to the wheelchairs…I pointed to my wheelchair. Another man heard the commotion, and took pity. So, we got in place, and I was suddenly struck with awe. The Vicar of Christ was just a few feet away…and coming towards us! (Bruce took this picture with the zoom lens.) This man, whom I believe was chosen by the Holy Spirit to lead the Catholic Church for such a time as this, was taking time to greet us. I was tearful before he even got next to me. He didn't say a word, but his eyes were so gentle, and it was clear to me that he was praying and offering a blessing. I can't really describe it. Bruce shook his hands, and barely uttered the words, "My wife of 20 years." Neither of us will ever forget that moment!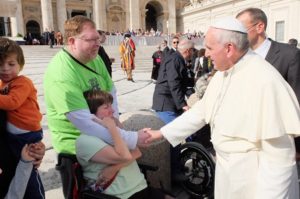 Now, why is this so special to us, being greeted by Pope Francis? Well, just in a human sense, it's pretty cool. I mean, there were over 80,000 people there, and he is the leader of the world's largest Church. Statistically, it's amazing. But there is so much more than the mere odds involved. As Catholics, we do NOT worship the Pope. He is not God, he is not equal to Jesus Christ. But we do see him as the Vicar of Christ here on earth. He is our head pastor. That is a very big deal. We can trace the papacy all the way back to St. Peter himself. I had planned on trying to articulate this, but others far more knowledgeable than I have already done so. If you are curious, I encourage you to read a bit by clicking here…good stuff!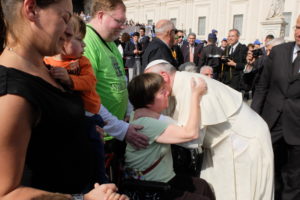 This experience was one that made this vacation become a pilgrimage. Some things cannot be fully explained or expressed…they must be experienced first hand. If you are Catholic, I pray you can make a trip to the Vatican and sit in on a General Audience. If not, maybe you can go anyway…but look out! You might be inspired to join the One Holy, Catholic, and Apostolic Church!!
Ciao!
Kim