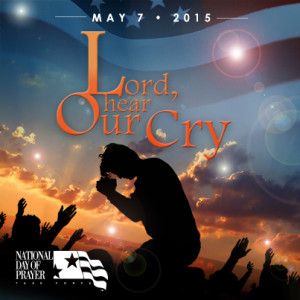 Each year, since 1952, on the first Thursday of May, our nation commemorates the National Day of Prayer.  I don't think I heard about it very much until my adult years.  Perhaps, I just wasn't paying attention!  But now I am tuned into this national event because I find it to be very special, and important.  While we are a nation with people of many different religious backgrounds, we were founded on Judeo-Christian principles.  I believe this is why our country flourished so much for so long.
But in recent years, our culture has divorced itself from many of the Biblical principles we once held so dear.  Legalized abortion, sexual "freedom," fatherlessness, drugs, and the possible (if not probable) redefinition of marriage have reeked havoc on our communities and families.  Many humanists will insist that religion should have no part in public policy or even public debate.
Look where that has gotten us.
But the Good News is that God has not abandoned us!  I believe He desires to see us flourish again.  But because He loves us, He will not force Himself upon us.  Sacred Scripture tell us this:
"…if my people, who are called by my name, will humble themselves and pray and seek my face and turn from their wicked ways, then I will hear from heaven, and I will forgive their sin and will heal their land."                                                                                                      2 Chronicles 7:14
In this verse, we can see many important details.  God is speaking about His people…not "unbelievers."  He is calling us to repent, to turn from wickedness.  How often do we as Christians point our fingers at other people and criticize them for being "godless" and the source of our problems?  We need to look in the mirror and take the plank from our own eyes.  Too many of us in the Body of Christ have either been silent about or complicit in (or likely a bit of both) the moral decline of our nation.  We must turn from our sinful ways…then God will heal our land!
I believe we have a long way to go, and many obstacles along the way, but I do believe this nation can swing back in the right direction.  I hold on to hope…it is in my nature.
As such, I was happy to participate in our local prayer service, hosted by Love INC of Vermilion County.  We had pastors from many different churches praying for our nation's leaders, our military, our local businesses and school and families.  It was a beautiful sign of unity in the Body of Christ!  I am certain that God will honor that unity with blessings for our community.  I will keep you posted!
But before I go, I just want to offer up a prayer for our nation.  I used to do this a lot through my emails at Women's Care Clinic.  I like the idea of people praying across time and space, yet together…
Heavenly Father,

We praise You! We bless You! We adore You! We would be nothing without You!  We thank You for the tremendous blessings You have bestowed upon our nation.  We ask for Your forgiveness for the times we have taken those blessings for granted.  Have mercy on us for the times we ignored our baptismal calling as Your people.  We humbly implore You…give us strength to resist the cultural pull into sin.  Give us perseverance to continue witnessing the faith to others, even when we are mocked.  Give us wisdom to know when to speak out and what words to use as we proclaim Your truth in our communities.  Help us to do justice, to love mercy, and to walk humbly with You every day.

We ask this, together in one voice…for You are the One True God…Father, Son, and Holy Spirit, forever and ever…Amen!