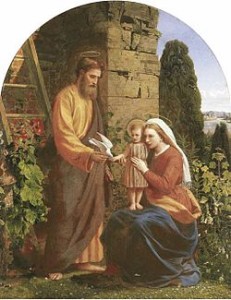 Happy Feast of the Holy Family!
Each year on the Sunday after Christmas, the Church celebrates this beautiful feast.  Earlier today, I was blessed to see families together at Mass..many whom I know dearly, some just well enough to say "hi."  Families with young children, families who just started life as "empty-nesters," single adults…all gathered together to worship God, Who is Father of us all!
Throughout this past week, Bruce and I celebrated our own unique family in many ways.  Last Sunday, one of our daughters* came to visit with her husband and kids.  We enjoyed enchiladas and salad (her favorite from years ago!) at dinner and exchanged fun gifts.  The weather was unseasonably warm, so Bruce played outside with them after dinner…next to our Christmas Yoda lawn ornament!
On Christmas Day, we went to the home of one of my brothers, his wife and son.  They adopted this little guy (who isn't so little any more) as a toddler.  Children are a blessing from heaven…and they come to us in so many ways!
Then yesterday, we went to Bruce's brother's home.  Well, one of his brothers!  It is so fun to see everyone again, and I am amazed at how grown up our nieces and nephews are.  So grown up that we have 5 great-nieces and 1 great-nephew!  Nephews who not so long ago were being playfully tossed in the air by Bruce, are now doing the tossing!  How fun is that?
We don't read a lot about the Holy Family in Sacred Scripture, but I am certain that they gathered with extended family when they could.  I have often wondered how much Jesus and John the Baptist played together.  Their mothers, Mary & Elizabeth, must have had such joy watching those 2 learn and play, just as parents and aunts and uncles today love to see kids growing up.  This kind of joy is nothing new, but is at the heart of human relationships…it is how God created us to be.  In families.  In communities.  Together, in relationship…as God the Father, the Son, and the Holy Spirit are in relationship with each other eternally.
Let us remember families who are not filled with joy.  Families who are grieving the recent death of a loved one.  Families who are mired by abuse or neglect or addiction.  Families struggling with debt and joblessness.  Many of them are unknown to us, but many are in our neighborhoods, our churches, our schools.  May God give us the strength to reach out to these families with love and compassion…and joy.  This could mean including your neighborhood in your prayers, your child's classmates, the fellow parishioners you haven't met (yet).  While we must keep our own families strong, it is good to extend outward whenever possible.  May our efforts extend far beyond the 12 Days of Christmas!
*For new readers who thought I did not have any children besides Gabriel, I still consider my foster kids "my kids"…temporarily in my home, always in my heart.