I have a fabulous Mother-in-law!  Her name is Dorothy, and she is filled with joy!  I rarely see her upset.  She is down-to-earth, loves to laugh, is dedicated to her family, and is a feisty Euchre player.
She and her husband raised my husband Bruce quite well, thankfully.  He is also pretty low-key (usually) and loves to laugh, even if it is at his own silly puns.  He takes care of me in so many ways.
Sometimes when we go to a Padan family gathering, I sit near Dorothy and we talk about whatever happens to be going on.   Our health, the latest cute things one of my new great-nieces or nephew have done, planting flowers…just about anything.  She genuinely cares about me and I about her.
Now, when Dorothy and I get into a long conversation, perhaps laughing hysterically, do you think that upsets my husband?  Of course not!  Does he think that my time with her takes away from my time with him?  No!  Bruce is very happy that I get along with his mom, because it actually helps me be closer to him.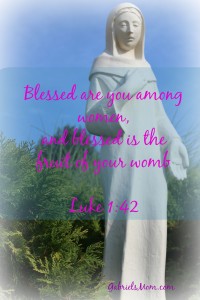 Today in the Catholic Church, we celebrate the birth of Mary, the Mother of Jesus.  We don't know exactly when she was born, of course, but it is fitting to celebrate the birth of this very special woman.  The Church has been doing so for centuries!
I realize that some people who read this page are not Catholic.   Many think that attention given to Mary takes away from Jesus, but it doesn't.  It enhances our relationship with Him.  I am not a theologian, so I won't get too deep into this matter, but I just want to share a few highlights:
As a faithful Catholic, I do NOT worship Mary.  Worship is for God alone.
When people say Mary is an ordinary woman I cringe.  Could you look Jesus in the eyes and say to Him "Your mom is nice and all, but really she isn't anything special."  I couldn't, and wouldn't, say that.
After all, out of all the BILLIONS of women who have ever lived and who will ever live, she was the ONE chosen to carry the Messiah!  That is AMAZING!
Here is something I learned some years back.  In ancient times, a woman didn't become Queen until her son became King.  This was because Kings had many wives.  The title was actually Queen Mother…and it was a title of high honor.  Read these verses, 1 Kings 2:19-20
 "So Bathshe'ba went to King Solomon, to speak to him on behalf of Adoni'jah. And the king rose to meet her, and bowed down to her; then he sat on his throne, and had a seat brought for the king's mother; and she sat on his right. Then she said, "I have one small request to make of you; do not refuse me." And the king said to her, "Make your request, my mother; for I will not refuse you.""
In this passage we see several things.  First, the Queen Mother interceded on behalf of Adoni'jah.  Second, the King actually bowed to his mother and placed her at his right…showing her great honor. Third, the King doesn't refuse his mother…after all, he loves her.
Jesus is the King of Kings!  The fulfillment of all that was promised in the Old Testament.  Of course, His Mother Mary would then be the Queen Mother!
So yes, we as Catholics celebrate Mary's birth.  When we pray the Rosary or other traditional prayers, we are asking for her intercession.  We are asking her to take our prayers to  her Son…basically putting in a good word for us!
Jesus followed every commandment, including honoring His Father and Mother.  Faithful Catholics around the globe and across time are simply doing the same!
Happy Birthday, Mother Mary!